REAL Leadership Experience
The REAL Leadership Experience (RLE) is a retreat-style leadership event developed for emerging leaders ready to take the next step in their leadership journey. The REAL Leadership Experience is a place for students in their first- and second-year of membership to shine, dream big, take chances, examine their innermost selves and learn the principles of REAL Leadership they can apply in their chapters, careers and communities. This leadership event will give women the skills and confidence they need to tackle leadership positions and challenges they never dreamed possible.
Session One
2021 Dates Coming Soon!
Session Two
2021 Dates Coming Soon!

This event gives emerging leaders the skills and confidence they need to tackle future leadership roles and challenges they never dreamed possible.
Application Information
Candidates for this exciting program are Gamma Phi Betas in their first- or second-year of membership and have held no executive council leadership role. All Gamma Phi Betas interested in attending the Real Leadership Experience (RLE) must submit a complete application. The RLE application is closed.
All applicants will be contacted in early May with the review committee's decision. Invited applicants will then complete the event registration process.
Natalie Turkowski (Minnesota State-Mankato)
"My favorite part of RLE was the opportunity to meet other Gamma Phi Betas outside of my collegiate chapter and networking with the facilitators who were at my session."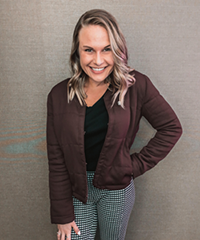 Chloe Valleroy (Central Missouri)


"My favorite part [of RLE] was meeting sisters from all across the country."





Katy Fix (Missouri State)


"RLE has given me the courage to stand up for people who cannot stand up for themselves."




Chloe Higgins (Nebraska-Lincoln)


"[A highlight from RLE was] making friends that I still talk to, even months later. These women are more than just fellow Gamma Phis, they are True and Constant friends that have made an incredible difference in my life."
Attendee registration guidelines
All first- and second-year members are invited to apply to attend RLE. Applications open March 2 and close March 27, 2020.
All invited emerging Gamma Phi Beta leaders are asked to register to confirm their attendance for their RLE. Invitations will be extended to applicants in early May. Invitations to register are not transferable to other chapter members. You must register for the session that you have been assigned.
What will I experience at RLE?
Selected candidates will participate in a four-day retreat-style leadership conference with 39 other emerging Gamma Phi Beta leaders. Attendees will experience innovative leadership development through dynamic programming, small group discussions, alumnae mentorship and personal reflection.
When and where is RLE held?
Selected participants will experience the beauty of the University of Oklahoma and of one of Gamma Phi Beta's oldest chapter facilities belonging to Psi Chapter. This year we have the honor of hosting two sessions: July 16-19 and July 20-23, 2020. Selected participants must attend all days of their session; arriving late or leaving early will result in forfeiting their place in the program.
What is the cost?
There is no cost to attend RLE. Participants' chapters will need to pay for their own transportation, airfare or gas to Norman, Oklahoma. Scholarships are available for flights, as we don't want this to be a barrier to participation! All accommodations and meals will be covered during the four days of the program.
Cancellation Policy
We understand that situations change. If for some reason you are unable to attend, please let us know as soon as possible. All REAL Leadership Experience cancellation requests must be in writing and emailed to Education Manager Jenny Campfield.
Gamma Phi Beta leadership, education and philanthropic programming is funded in part by the Gamma Phi Beta Foundation. We extend our sincere gratitude to the Foundation and the many generous donors that allow the Sorority to create this programming.