REAL Leadership Experience
The REAL Leadership Experience (RLE) is a retreat-style leadership event for emerging leaders ready to take the next step in their leadership journeys. It is a place for Gamma Phi Betas in their first- or second-year of membership to shine, dream big, take chances and examine their innermost selves. Members will also learn about the REAL Leadership principles they can apply in their chapters, careers and communities. This leadership event gives women the skills and confidence they need to tackle leadership positions and challenges they never dreamed possible.
This event gives emerging leaders the skills and confidence they need to tackle future leadership roles and challenges they never dreamed possible.
Natalie Turkowski (Minnesota State-Mankato)
"My favorite part of RLE was the opportunity to meet other Gamma Phi Betas outside of my collegiate chapter and networking with the facilitators who were at my session."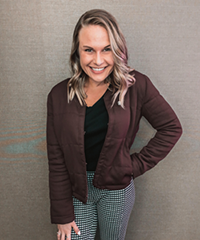 Chloe Valleroy (Central Missouri)

"My favorite part [of RLE] was meeting sisters from all across the country."




Katy Fix (Missouri State)


"RLE has given me the courage to stand up for people who cannot stand up for themselves."




Chloe Higgins (Nebraska-Lincoln)

"[A highlight from RLE was] making friends that I still talk to, even months later. These women are more than just fellow Gamma Phis, they are True and Constant friends that have made an incredible difference in my life."
PARTICIPANT RECOMMENDATION FORM
Do you know an emerging chapter leader who is a strong fit for RLE? Or are you a first- or second-year collegiate member who has not held an executive council officer role and is interested in developing your leadership skills? Fill out a Participant Recommendation Form to share information about RLE with members of your chapter or to gain additional information for yourself about RLE programming.
Recommendations are accepted on a rolling basis. Recommendations submitted by February 28 will be considered toward upcoming RLE programming. Recommendations submitted by February 28 will be contacted during the open participant application period. Recommendations submitted after March 1 will be considered for the next academic year.
Recommended individuals must still take part in the application process in its entirety to participate in RLE.
Gamma Phi Beta leadership, education and philanthropic programming is funded in part by the Gamma Phi Beta Foundation. We extend our sincere gratitude to the Foundation and the many generous donors that allow the Sorority to create this programming.