About
Gamma Phi Gives Day is a 24-hour day of giving celebrates our sisterhood dedicated to friendship, scholarship and philanthropy. Gamma Phi Gives Day honors all members who take chances and are determined to make a difference in the world.

Our first Gamma Phi Gives Day, held March 8-9, 2022, raised $169,302 in funds from 642 donors! This was made possible by the True and Constant sisters and friends of Gamma Phi Beta!

save the date
Our next Gamma Phi Gives Day will be March 21-22, 2023! Our goal is to raise $200,000 for the Gamma Phi Beta Foundation.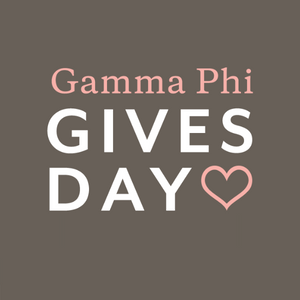 Become a Gamma Phi Gives Day Ambassador
Thank you to our 2022 Gamma Phi Gives Day ambassadors! Their efforts to spread the #GammaPhiGives message led to our success. Interested in being a 2023 ambassador? Do you love Gamma Phi and are ready to share your reasons for giving and get others to give, as well? Sign up using the button below and we'll add your name to next year's group! We will provide training and content for ambassadors to share leading up to and on Gamma Phi Gives Day.

"
I am so lucky to
be a part of a sisterhood that promotes the highest type of womanhood in more ways
than one.
This organization has given me the best support system that I could have asked for
throughout my years of undergrad.
Thank you for allowing me to further my education as a
first-generation college student. I am eternally grateful for the unconditional support I have
received from Gamma Phi Beta." –
Jaquelin Guadalupe Delgadillo (Idaho)
"I look back on my four years as a collegian, and I'm forever grateful for everything that Gamma Phi Beta brought me.
From leadership experiences to social connections, I truly believe my Gamma Phi Beta experience helped shape me into the leader and woman I am today.
I give to the Gamma Phi Beta Foundation so future sisters can have those same experiences, both as a collegian and as their lifelong commitment through volunteering." –
Bree Brownlee (Alma)
Collegiate Chapter Participation
Collegiate chapters can participate in Gamma Phi Gives Day, too! As you are creating your budgets for the next year, be sure to allocate funds for your Gamma Phi Gives Day gift in 2023!
Chapters can choose their way to participate:
Donate $18.74 for every chapter member and they will be individually recognized as members of Carnation Nation, the giving society exclusively for collegiate members!
Can't sponsor every member? Consider honoring your seniors or new member class and donate $18.74 per member of that smaller group.
Join the 1874 Society as a chapter by donating $1,874.
Give any amount meaningful to your chapter!
If you're unable to donate, you can still help by sharing Gamma Phi Gives Day to your chapter alumnae and social networks!