International Headquarters
As of January 2023, Gamma Phi Beta's new International Headquarters is located at 9155 E. Nichols Ave. Suite 330, Centennial, CO, 80112.
HISTORY OF INTERNATIONAL HEADQUARTERS
From the basement of a chapter house to a stand-alone custom-built facility, the history of Gamma Phi Beta's International Headquarters spans almost 100 years.
Beginning 1992, 12737 E. Euclid Drive served as home to International Headquarters (IH) staff. It hosted many priceless artifacts of Gamma Phi Beta's history. And many of us — especially our collegiate leadership consultants (CLCs) and volunteer leaders —remember late nights of friendship and building sisterhood in what was once our sleeping quarters. Despite the fond memories we have of this building, much has changed over the past 30 years.
For more than a decade, International Council (IC) has hosted numerous conversations about how the IH building no longer meets our business needs. Like most businesses, Gamma Phi Beta's needs and ways of functioning have changed over the years. One example is the way Gamma Phi Beta conducts meetings. At the beginning of occupancy, meetings were held in the IH conference room or by telephone, email was rare, and mail was critical in the execution of business. With the growth of our organization and technological advances, we have been unable to conduct board meetings, volunteer training or staff gatherings in the building for years, while our options for meeting virtually post-pandemic are now commonplace. Technology has continued to make our sisterhood more efficient; it has allowed our staff to perform their roles effectively from a remote workspace. And although we love this building so much, we realized that we could not ignore how little we utilized it.
In fall 2022, IC accepted an offer to purchase the current IH at 12737 E. Euclid Drive and authorized IH staff to find a new space in the Denver metro-area that fits the Sorority's current needs. As all IH staff will now be fully remote, this smaller location will offer a few offices, storage, and space to hold board meetings.
To quote International President Autumn L. Hansen, "Gamma Phi Beta is much more than a building, an office or an address. It is a sisterhood of dynamic women rooted in True and Constant friendship, who appreciate lifelong learning and continual growth." The move from 12737 E. Euclid Drive is an example of our ever-evolving needs as an organization and our ability to grow, adapt and continually advance Gamma Phi Beta.
Saying goodbye is never easy, but we are confident that this is the right choice for Gamma Phi Beta's future. Just as the decision to embark on building our own headquarters was one to positively position Gamma Phi Beta, this decision looks towards the future to ensure our continued success.
If you have questions about the sale of our building, please refer to our Frequently Asked Questions page.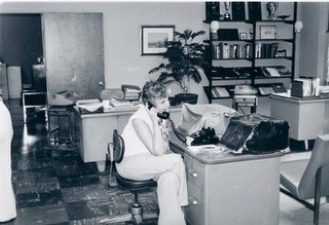 The wonderful artifacts previously displayed at IH will be archived with HistoryIT in Portland, Maine. They will work to digitally preserve these pieces so current and future Gamma Phi Betas will be able to enjoy them for years to come. We have a smaller digital collection currently available to view now.

You can also view a tour of the museum and its artifacts in this video, recorded in 2020, or view a gallery of photos.

the Capital Endowment Campaign
With the construction of International Headquarters, a Capital Endowment Campaign (CEC) was created by the joint efforts of the combined governing boards; Grand Council, Endowment-Loan Board and Foundation Board of Trustees, with the overwhelming support of the 1988 Convention body. The CEC was established to permanently endow Gamma Phi Beta's leadership programs, thus releasing funds to purchase an International Headquarters. We are continually grateful for these donors and recognize their generosity with great admiration. The CEC continues to live on through its support of Gamma Phi Beta's many leadership opportunities.
Sisterhood Plaza
To commemorate Gamma Phi Beta's 125th anniversary, the Foundation created the Sisterhood 125 Celebration in 1991 to raise funds to benefit the Sorority's leadership, philanthropic and scholarship programs. The Foundation recognized supporters of this effort by constructing Sisterhood Plaza at International Headquarters, which symbolizes building a solid path to the Sorority's future.
Thank you to the thousands of sisters, parents and friends of Gamma Phi Beta who donated to the Foundation and were recognized through Sisterhood Plaza bricks to honor or commemorate the special Gamma Phi Betas in their life. If you believe a name or a brick is missing from the list below, please contact gammaphibeta@gammaphibeta.org.