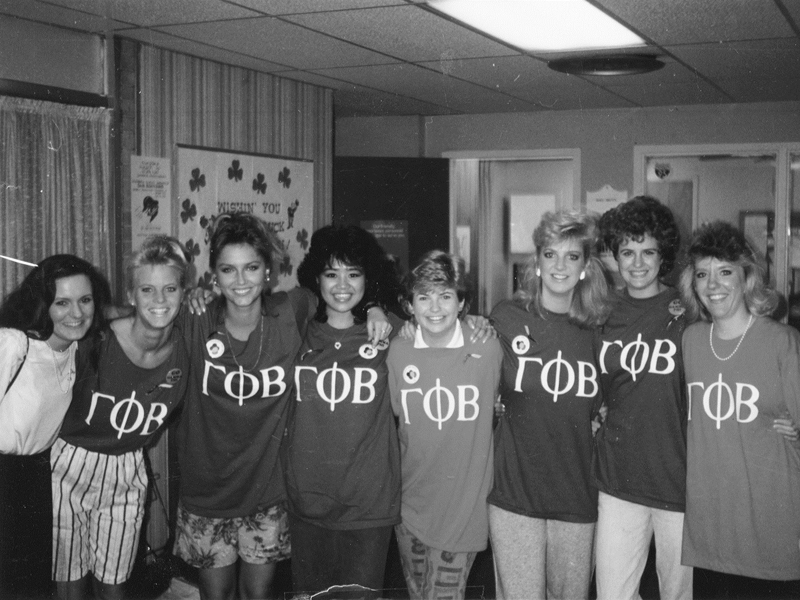 Collegiate Leadership Consultants Susan and Kendra with some of Epsilon Zeta Chapter's charter members in 1987.
Epsilon Zeta Chapter (Jacksonville)
The Installation of Epsilon Zeta Chapter at Jacksonville University in Jacksonville, Florida, began with Inspiration Week and culminated in the charter presentation on November 21, 1987.
Installation was held at the Marriott at Sawgrass Resort. Joining the new initiates, their guests and international officers were Dean of Students Dr. Martha P. McGee, Advisor to International and Commuter Students Helen Glenn and Secretary to the Dean of Students Dorothy Thomas.
Gifts presented to Epsilon Zeta included three silver trays, a silver shell dish and a silver punch bowl. The chapter president's badge was donated by the executors of the estate of Dr. Dorothea Lillian Keeney. Dorothea was initiated in 1914 at Syracuse University and had spent many years in China as a teacher and missionary. She had expressed an interest in the colony and died five weeks prior to its establishment.
*Excerpt from the spring 1988 issue of The Crescent, pages 18, 19 and 22.