Epsilon Gamma Chapter (San Diego)
Epsilon Gamma Chapter was installed at the University of San Diego in San Diego, California, on October 27, 1984.
Awards, gifts and the coveted chapter charter awaited the Epsilon Gammas at the Sheraton Harbor Island West, which was the site of the Installation banquet. Surrounded by pink table linen and carpeting in shades of pink and brown, light from the glass candlelit centerpieces reflected in the eyes of excited Gamma Phi Betas and guests. Extension Supervisor Julie Shafer radiated enthusiasm and love as she read comments expressed by two charter members: "Gamma Phi Beta means a love that I found with my sisters" and "Seeing our alumnae so involved with us lets me know Gamma Phi Beta is a lifetime commitment."
After introducing Epsilon Gamma initiates and 27 pledges, Julie announced the colony awards, which had been selected and voted on by the members. The Pearl Award for overall excellence was presented to Paula Dobin, rush chairman; The Spirit Award to Vicki Minardi; The Cindy Lucas Most Inspirational Award to Tami Durham and Paula Dobin; and The Julie Shafer Leadership Award to Carol Schumacher, chapter president. Gifts presented to Epsilon Gamma were a crystal vase from Delta Lambda Chapter at California-Riverside, a silver pitcher and two trays from province XVI, a Gamma Phi Beta banner from the La Jolla Alumnae Chapter and a silver punch bowl from the Sorority.
The Epsilon Gamma president's badge was given by Elizabeth Steed DePrez (Oregon). It had belonged to her mother, Eleanor Leonard Steed, a 1901 Delta Chapter initiate. Finally, after months of anticipation, Grand President Ann Mullen Bronsing (Indiana State) presented the Epsilon Gamma charter to Chapter President Carol Schumacher, telling chapter members, "With it goes my confidence and my love."
*Excerpt from the spring 1985 issue of The Crescent, pages 7-8.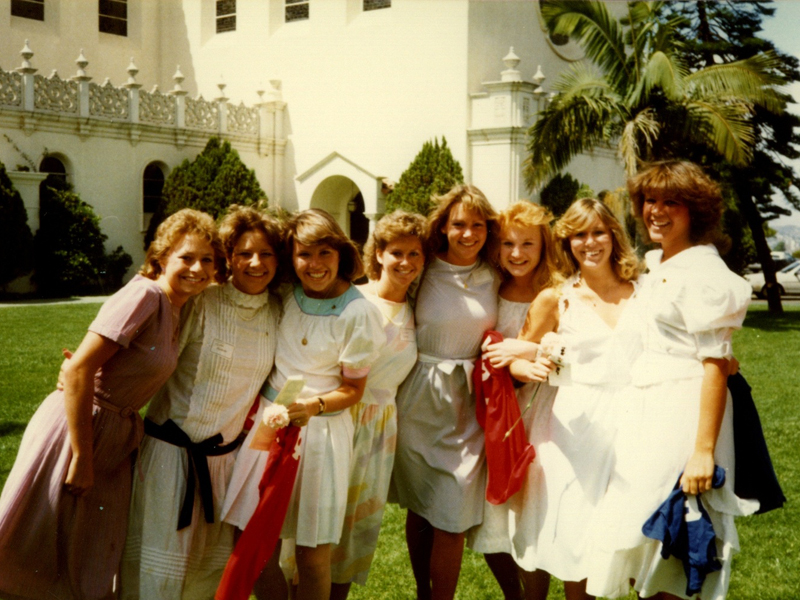 Members from Epsilon Gamma Chapter in 1984.