1930: The Great Depression
Though the relatively prosperous families of Gamma Phi Beta members were far removed from the travesties of bread lines and soup kitchens, few Americans remained untouched by the Depression. Some families found it difficult to keep their daughters in college and enrollments decreased. With fewer members living in chapter houses, keeping mortgage payments current posed a challenge though, astonishingly, not one chapter house was lost during those difficult years. Despite the economic difficulties of the time, five new chapters were added in 1930 and 1931.

Sisters at a Gamma Phi Beta camp, as shown in the March 1932 issue of The Crescent.
Gamma Phi Beta's penchant for philanthropic endeavors rose to the surface as never before as their camping program became increasingly important, especially for young girls in urban areas. Kittie Clarke (Denver, 1908), who had been intimately involved with the program since its inception, wrote in 1931, "No account of camp could be complete without a word about the splendid girls who come each year from everywhere to care for the children, college girls giving up their precious vacation hours, teachers realizing what girls so underprivileged require, and many others, but each one anxious to do her share toward making the camp a success. True, they have many happy hours together learning to know their Gamma Phi sisters, yet there is plenty of work to be done at all times, and there is never a grumble. Each year girls return because they have felt so well repaid for their efforts the previous seasons."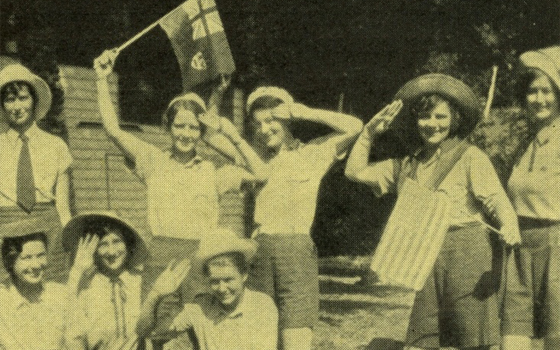 The March 1932, issue of The Crescent featured sisters who served as camp counselors for the Gamma Phi Beta camp.