1924: The First Endowment Fund
There was, of course, some business conducted at the 1924 Convention, including the approval of a National Endowment Board. "In 1919," Lindsey Barbee (Denver, 1897) wrote, "the Endowment Fund was a sum of eight hundred dollars and it became the obsession of the Council to raise it to fifty thousand by 1924, the fiftieth anniversary of Gamma Phi's founding." As Grand President, Lindsey was approached by an insurance agent and, as a result, Gamma Phi Beta became the first sorority to use such an insurance plan to increase its endowment fund. This plus other generous gifts increased the endowment to $50,000 paid and pledged in time for the 1924 Convention. It was moved from the general treasury and deposited with Harris Trust Company of Chicago. The first National Endowment Board included Lillian Thompson (Michigan, 1892), Lucy Babcock (Syracuse, 1900), Marjorie Entyre (Wisconsin-Madison, 1905) and Marion Van Patten (Northwestern, 1915), all residents of Chicago. They held their first meeting on December 27, 1924.
The 1924 Convention also approved a central office plan submitted by Lillian Thompson (Michigan, 1892). She recommended that the office be established in the Chicago area and that the small stipends awarded to Grand Council officers at the 1919 Convention be discontinued and those funds used instead to pay an executive secretary. Those were the only funds approved, however, so the reality of a central office remained several years away.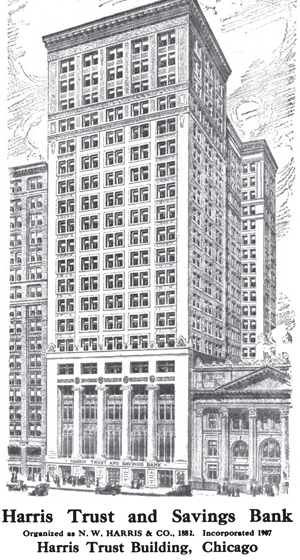 Harris Trust Building in Chicago, Illinois, 1911.