Convention in the 1800s
Learn about our first-ever conventions from 1883-99.
Fast Facts
17 Conventions, six different locations
Hosted annually
Conventions were created to conduct Sorority business
Conventions from 1900-25
Conventions through the turn of a century and our 50-year anniversary.
Fast Facts
17 Conventions, 14 different locations
Switched to biennial in 1909
The Founders were last together at the 25th Convention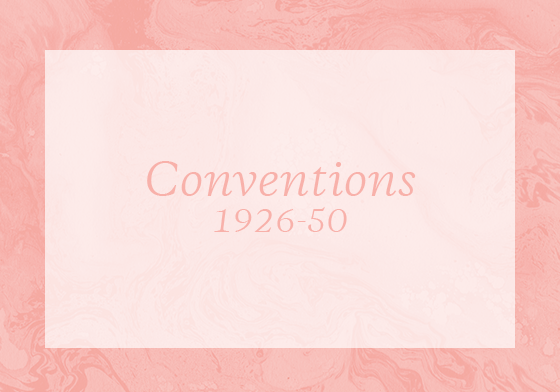 Conventions from 1926-50
Explore through 1950 and learn how Conventions moved our Sorority forward.
Fast Facts
10 Conventions, 10 different locations


Camping became our philanthropy in 1929

In 1940, the Honor Roll Award was established
Conventions from 1951-75
Conventions from 1501 to 1975, our Sorority's 100th year.
Fast Facts
12 Conventions, 12 different locations
The Foundation was founded at the 48th Convention
Carnation Award was introduced in 1974
Conventions from 1976-2000
Discover more about Conventions from 1976 to 2000.
Fast Facts
13 Conventions, 12 different locations
Delegates approved the Capital Endowment Campaign Plan in Dallas
Personal and Chapter Enrichment (PACE) was born in the '80s
Conventions from 2001-Present
Conventions through the 21st century.
Fast Facts
Nine Conventions, nine different locations
Our philantrhopic focus, Building Strong Girls, and partnership with Girls on the Run was announced in 2012
55 Bylaws amendments made the Sorority a women's 21st century organization
Explore Our History by Topic