The Renaissance Esmeralda Resort & Spa is located at 44400 Indian Wells Lance, Indian Wells, CA 92210.
The resort is set within Coachella Valley and evokes a true desert oasis. Surrounded by a gorgeous pool, two championship golf courses, tennis courts and local shops, this unique setting is always within reach with your all-new guest room that boasts private balconies and scenic views.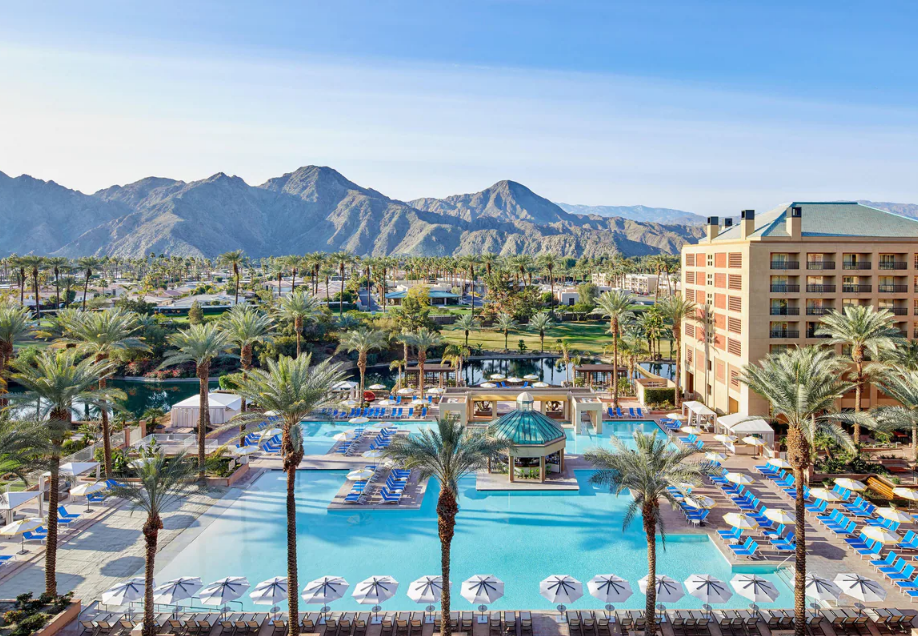 Hotel Booking
During registration, you will be asked to select your registration type. Your registration type will dictate your registration fees and your room type (either a king or double/double room). If you are only coming for RLI, please select your arrival date as June 23 and your departure date as June 25. If you are a part of a Regional Team and have been asked to arrive early, please select June 22 as your arrival date.
If you select days before or after the program dates, please indicate your actual arrival and departure range and indicate who will be paying for these additional nights. Once these nights are verified, you will either be charged on-site by the Renaissance Esmeralda Resort & Spa for personal nights, or your department will be billed accordingly if you arrive early or are staying late for Gamma Phi Beta business.
Hotel Roommates
All rooms are based on double occupancy unless you have registered and paid for a single room. During registration, you will have the opportunity to request a roommate. If you select a roommate who does not register or if you leave this section blank during the registration process, you will be assigned a roommate at random. We will do our best to honor all matching roommate requests. If your roommate request does not match, you will be paired at random.
On-site Check-in and Registration
Upon arrival, please check in at the hotel's front desk to get your room assignment. Hotel check in is at 4 p.m. A credit card will be requested to cover incidentals such as phone calls, room service, etc. Please be aware that if you use a debit card instead of a credit card, the hotel will place a $75 hold for each night of your stay for incidentals.
After checking in, please stop by the RLI registration desk. The desk location will be noted in your mobile app and may vary depending on your arrival day. Registration desk hours vary daily.
Hotel Wi-Fi
For your convenience, the Renaissance Esmeralda Resort & Spa is pleased to offer complimentary basic Wi-Fi in all guest rooms, public spaces and meeting spaces.
Want to extend your stay?
The Renaissance Esmeralda Resort & Spa has graciously extended our group room rate two days before and after our event dates. Please take this opportunity to arrange some additional sisterhood time and come early or stay late to enjoy the pool and other resort amenities at the rate of $185 per night plus taxes (based on single or double occupancy). You will be able to select additional room nights during registration.