Facilities Management Company
FMC Mission and Vision
Mission: To ensure safe, inviting Gamma Phi Beta facilities.
Vision: The Facilities Management Company will be a financially self-sustaining organization, providing resources and services that foster security and hospitality at all Gamma Phi Beta facilities.
FMC Guiding Principles
We support and enhance the collegiate experience for our members.
We maintain fiscally prudent and operationally sound practices.
We provide exceptional volunteer opportunities.
We make ethical decisions for the greater good.
Living in a facility of Gamma Phi Beta is an integral part of our Sorority's membership.
Facilities
Our facilities are the heart of many of our chapters, providing a home for more than 3,400 of our collegiate members every year.
The FMC owns properties across the country and has a growing number of chapters enrolled in the FMC Services Program. All new Gamma Phi Beta chapters installed after August 1, 2013, are automatically managed by the FMC, giving our new chapters access to top-notch facilities and resources.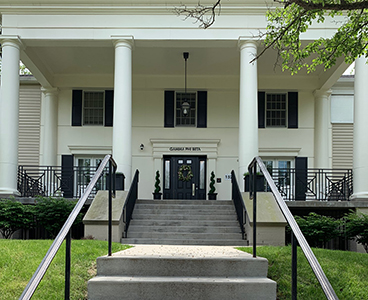 Service Program
Many chapters of Gamma Phi Beta have sorority facilities either owned by the local affiliated house corporation (AHC) or the university. Our dedicated alumnae volunteers serve as elected members of each AHC and have managed and dealt with facility challenges for years. Managing a facility can be overwhelming, whether a free-standing sorority house or a specified sorority space, such as a suite, dorm floor or meeting room.
The FMC believes that it is important to increase the level of support and resources provided to our AHCs through the FMC to ensure that all Gamma Phi Beta facilities are safe, welcoming and competitive. AHCs have the opportunity to apply to join the FMC's service program.
Apply to be a Facility Director
Gamma Phi Beta is now accepting applications for facility director positions at Sorority properties. Please complete the application to be considered for a position. A representative from Gamma Phi Beta will contact you should a facility director position that fits your qualifications become available.