REAL Leadership Institute
REAL Leadership Institute (RLI) is a four-day, in-person leadership event for Gamma Phi Beta's workforce made up of International Council, Sorority volunteers, advisors and professional staff. The RLI experience provides training and developmental programming to achieve our strategic plan and equip the workforce to provide a quality member experience for our collegians and alumnae. To maximize relationship building and to think holistically about the member experience, this year's RLI ran in conjunction with our Housing and Facilities Conference sponsored by the Facilities Management Company to include our housing workforce with joint programming opportunities.

Who was Invited?
All approved Sorority volunteers received an invitation to register for RLI in mid-March. Invitations were non-transferable unless you were being replaced in your current position. Each Sorority volunteer was responsible for her own registration fee. All other expenses (flight, travel meals, hotel, etc.) were at the expense of the Sorority.
International Headquarters extended an invitation to one advisor from each chapter to attend RLI. The registration fee and all other travel expenses were at the cost of the collegiate chapter.
REAL Leadership Institute was held June 27-30, 2019, in Westminster, Colorado, at the Westin Westminster Hotel.
What should you have taken away from RLI 2019?
An enhanced self-awareness as it relates to your role, your workforce team and the Sorority.
Critical skill development relevant to the strategic plan and the collegiate member experience.
Important knowledge about Gamma Phi Beta operations, higher education trends and best practices with collegians.
Sisterhood, networking and rejuvenation!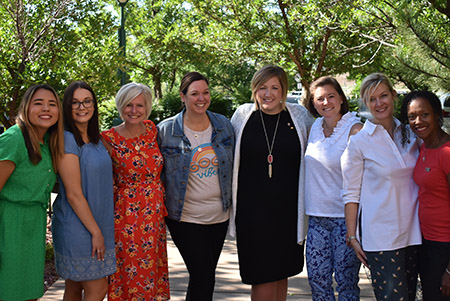 Gamma Phi Beta leadership, education and philanthropic programming is funded in part by the Gamma Phi Beta Foundation. We extend our sincere gratitude to the Foundation and the many generous donors that allow the Sorority to create this programming.