1939: A New Look for The Crescent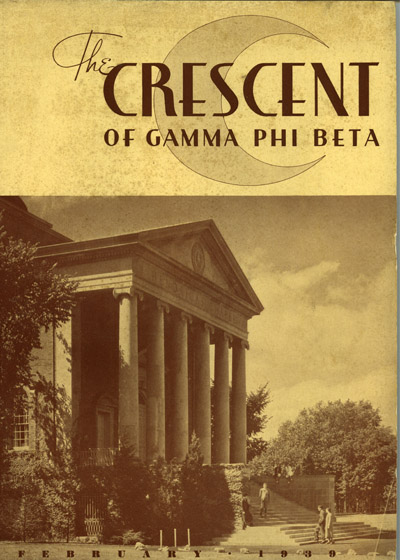 The February 1939 issue of The Crescent, which shows the new design.
Airdrie Kincaid Pinkerton (University of Washington, 1912) became editor of The Crescent in 1938 and gave the magazine a whole new look in February 1939. The pages were enlarged and the familiar brown cover was changed to shades of cream and brown. The cover featured a photograph of Hendricks Chapel located on the Syracuse University campus. Future issues featured buildings on campuses where Gamma Phi Beta had chapters. The pictorial section was greatly enlarged and featured articles about individual Gamma Phis.
The 40th Convention was held at the stylish Del Monte Hotel in Monterey Bay, California, in 1938. During the closing banquet, Gamma Phi Beta went "on the air" when Knox Manning, a news broadcaster from Los Angeles station KNX, took time out from world news to sum up the results of an informal survey taken during Convention. The survey revealed that the ladies attending Convention still preferred marriage to a career. Only one girl out of 400 voted for a career over marriage but even she qualified her answer by adding "at this point" to her response. Survey results concluded that the scandalous but very fashionable Duke and Duchess of Windsor were the most desired dinner guests. Given the choice of going to a movie or spending an evening with a good book, 180 chose a movie and 220 preferred a book. Their pet peeves were old-fashioned pranks such as tickling and pinching but for one girl, "sagging slips and crooked seams" topped the list while another abhorred "cigars and spats."