1968: The 53rd Convention – Two Special Guests
More than 500 Gamma Phi Betas attended the 53rd International Convention at the Huntington-Sheraton Hotel in Pasadena, California, held June 23-29, 1968. Cloris Leachman (Northwestern) and Hope Summers (Northwestern, 1920) were special guests at the poolside Fiesta Banquet one evening. Hope, a former president of Epsilon Chapter (Northwestern), spoke briefly of some of her experiences in the theatre. Born in 1896, she was an American character actress with an impressive string of movie credits and though she was known mostly for her role as the nosy but kindly Clara Edwards on "The Andy Griffith Show," she also had a minor role in Roman Polanski's groundbreaking 1968 movie "Rosemary's Baby."

Members at the 53rd Convention in Pasadena, California.
Cloris Leachman was born in 1926 and competed in the Miss America Pageant in 1946, placing in the top 16. Like Hope, she also had an impressive list of movies and theatre productions to her credit but would become more widely known as the narcissistic Phyllis Lindstrom on the "Mary Tyler Moore Show" when it debuted in 1970. Cloris sang several musical selections at the close of the 1968 Convention accompanied on the piano by her mother-in-law, Mabel Albertson, the mother of George Englund and a motion picture artist in her own right.
As the drug culture became a more prominent part of campus life, the entire Greek system came under increased scrutiny. Rising in response, Collegiate Vice President Elna Erickson Simons (Birmingham Southern) announced a new policy in August 1968, established by the Grand Council, concerning the use and possession of drugs. The policy, designed as a directive to chapters, strictly prohibited the use and/or possession of narcotics, marijuana and any hallucinogens on any property owned or rented by Gamma Phi Beta.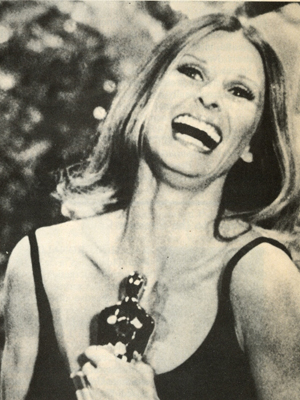 Cloris Leachman (Northwestern) receiving the Academy Award for Best Actress in a Supporting Role for the film "The Last Picture Show," 1971. Photo credit: The Chicago Tribune.

Hope Summers (Northwestern, 1920), 1966.