Delta Tau Chapter (Colgate)
Delta Tau Chapter was installed at Colgate University in Hamilton, New York, on November 14, 1981.
Women were first admitted in 1970 to Colgate University, founded in 1819. Delta Tau Chapter (Colgate) became the first national Sorority on campus when 23 members of the local sorority, Delta Nu, and seven alumnae initiates were welcomed by Alpha Chapter (Syracuse). Guiding the colonization were Director of Expansion Mary Alice Adams Betts (William & Mary, 1960), Expansion Supervisor Nancy Donovan Montgomery (Bowling Green), Collegiate Consultant* Mary Neel Larson (Drake) and the members of Alpha Chapter. Alumnae Field Representative Gretchen Meier Oostenink (Iowa) coordinated the guidance offered by alumnae.
On November 14, 1981, the Initiation ceremony was performed by collegians of Alpha (Syracuse) and Delta Mu (Rutgers) Chapters under the direction of International Ritual Co-Chairman** Cynthia Partain Farrell (Bowling Green). Grand President*** Karen Wander Kline (Iowa State) presented the charter to Chapter President Barbara Cleveland Burt (Colgate) at the installation banquet. A historic 1913 badge donated by Johanna Potter Shed (Syracuse, 1915) was presented as the president's badge.
*Collegiate consultants are now known as collegiate leadership consultants.
**International ritual co-chairman is now known as the director of ritual.
***Grand President is now known as International President.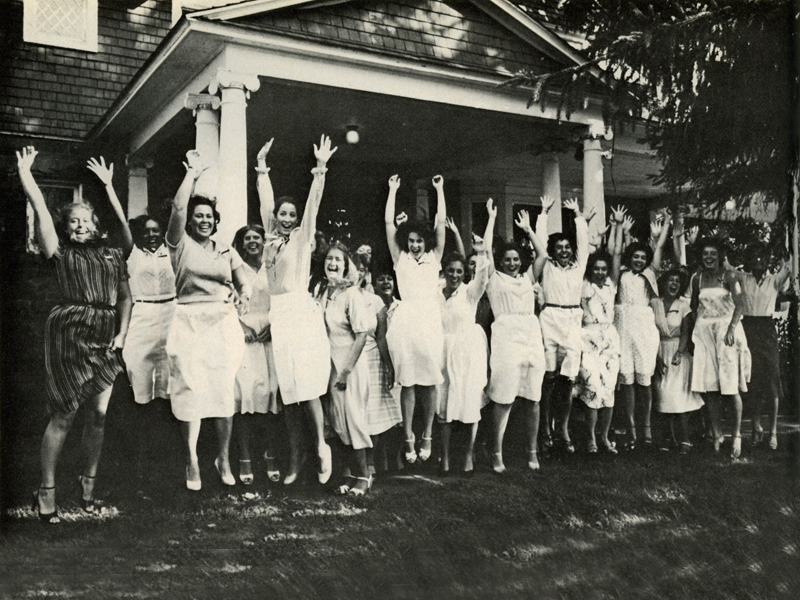 Delta Tau Chapter charter members in front of the Merrill House, 1981.