Memorial gifts are a meaningful way to celebrate the life of a member who has passed. If you wish to donate $25 or more in memory of a late member, be sure to fill out the Who Are You Honoring Section* in the payment form.
*Please be mindful of the email address you provide, as it sends a message to that account. We recommend getting an email address of a close family member to send the notification or skipping the email field.
We acknowledge the following individuals and groups who contributed to the Gamma Phi Beta Foundation in memory of a loved one.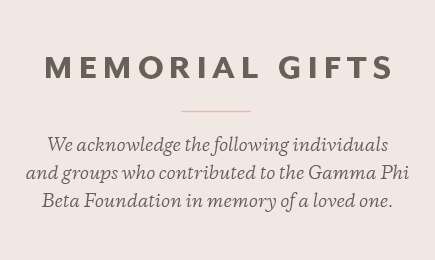 Gifts recorded during September 2023
M. Susan Eggleston Donaghue (Kansas, 1958)
Susan Perrin (Oklahoma State)
Stacie Lakey Evans (Nebraska-Kearney, 2002)
Alicia O'Connell (Nebraska-Kearney)
Carol Hodges (Nebraska-Lincoln, 1960)
Sharon Dunham (Nebraska-Lincoln)
Cathy Lindauer (Iowa State, 1944)
Sally Lewis (Bradley)
Leona Davis Drouet Ponish (Southern Methodist, 1949)
Sally Lewis (Bradley)
Ann Mullen Bronsing (Indiana State)
Karen Urette (Oklahoma)
Mary Lou Tomsovic (Bradley, 1956)
Jeannette Kaelin (Colorado-Boulder)
Jane Kolbeck Tuft (Bowling Green, 2009)
Carol Matthews (Syracuse)
Gifts recorded during August 2023
M. Susan Eggleston Donaghue
Judy Millen (Kansas State)
Dr. Myron Hultgren, husband of Joyce Cole Hultgren (Wichita)
Judy Millen (Kansas State)
Cathy Lindauer (Iowa State, 1944)
Denver Alumnae Chapter
Carolyn Hutchinson (Colorado State)
Magnus Welsh (Memphis)
James (Jim) Ogden, husband of Jennifer Moody Ogden (Texas Tech)
Ann Campbell (Northwestern)
Janet Klawiter Poppen (Missouri - Columbia, 1960)
Sally Tucker (Washington)
Delores Wilson Urias (Arizona, 1956)
Mary Franz
David and Shirley Miller
Caroline Joyce Reigle Williams (Oklahoma, 1955)
Evan Williams
Cathy Lindauer (Iowa State)
Anne Layton (McGill)
gifts recorded during july 2023
Cathy Lindauer (Iowa State, 1944)
Ann Bronsing (Indiana State)
Marilyn Fitzgerald (Nebraska - Lincoln)
Judy Graham (Oklahoma)
Frances Griffin (Texas - Austin)
Kay Wilms (Colorado State)
Gretchen Bach Austin (San Jose State, 1955)
Andrew Lie
Gifts Recorded during June 2023
Gretchen Bach Austin (San Jose State, 1955)
Marjy Ayotte (California - Berkeley)
Karen Bailey Cooper (Bowling Green, 1962)
Douglas Cooper
Marilyn Delpire Cullinan (Bradley, 1953)
Tom Cullinan
Dr. Myron Hultgren, husband of Joyce Cole Hultgren (Wichita)
Sally Lewis (Bradley)
Karen Urette (Oklahoma)
Cathy Lindauer (Iowa State, 1944)
Jolene Stiver (North Dakota State)
Karen Urette (Oklahoma)
Merry Naviaux (Nebraska - Lincoln, 1960)
Sharon Dunham (Nebraska - Lincoln)
James (Jim) Ogden, husband of Jennifer Moody Ogden (Texas Tech)
Judy Graham (Oklahoma)
Betty Margaret Rast Savage (Southern Methodist, 1942)
Deborah Krumme (Missouri State)
Tarah Haro Williams (Texas Wesleyan, 1997)
Erin Reese (Texas Wesleyan)
Gifts Recorded during may 2023
Marilyn Delpire Cullinan (Bradley, 1953)
Sally Lewis (Bradley)
Tom Cullinan
John M. Groves, Jr., husband of Ann Porter Groves (Penn State)
Philadelphia North Alumnae Chapter
Dr. Myron Hultgren, husband of Joyce Cole Hultgren (Wichita)
Frances Griffin (Texas - Austin)
Maxine Henderson Kruse (Southern California, 1947)
Ann Baird Smith (Texas - Austin)
Ann Bracey (Texas Christian)
Carol Myers Stewart (Rollins)
Sue Ott (Kansas)
Sally Parmelee (Texas – Austin)
Anna Stucker (Kansas)
Carlotta Khalifa Norman (Southern Methodist, 1958)
Ann Baird Smith (Texas - Austin)
Ann Bracey (Texas Christian)
Carol Myers Stewart (Rollins)
Sue Ott (Kansas)
Sally Parmelee (Texas – Austin)
Anna Stucker (Kansas)
Jackie McGinnis Melcher (Southern Methodist, 1958)
Ann Baird Smith (Texas - Austin)
Ann Bracey (Texas Christian)
Carol Myers Stewart (Rollins)
Sue Ott (Kansas)
Sally Parmelee (Texas – Austin)
Anna Stucker (Kansas)
Walter William (Bill) Nelson, brother of Jo Ann Nelson (Florida State)
Julie Dunn Eichenberg (Florida State)
James (Jim) Ogden, husband of Jennifer Moody Ogden (Texas Tech)
Kimberly Shamshoian-Sakamoto (Texas Wesleyan)
Jackie Mccown
Anne McCune
Randy Petersen
Mary Lou Noel Pollack (Kent State, 1951)
Joan Piper (Wisconsin – Madison)
Ruth A Seeler, M.D (Vermont, 1956)
Judy Sennett (Illinois at Urbana-Champaign)
GIFTS RECORDED DURING April 2023
James (Jim) Ogden, husband of Jennifer Moody Ogden (Texas Tech)
Annabel Jones (Oklahoma)
Stephanie Carriere (Arizona)
Joanne Roman (Vanderbilt)
Barbara Chadwick (Vanderbilt)
Melinda Sutton (Southern Methodist)
Marina Rispin (British Columbia)
Carly Foerster (Chapman)
Laszlo Pook
Joan Kornblith
Ligia Gutierrez
Enrique Gomez
Paulo Lapuz
Andrew Bachrodt
Liam Graff
Gregory Char
Robbie Moody
Carlie Myers
Katie Fellin
Kyrsten Johnson
Kristin Murphy
Robert Dotson
Marta Rozanich
Connie Herndon
David Dooley
Tony Kouba
Charles Brown
Connie and Sam Ogden
Lacey Alford
Barbara Smith Kinney (Iowa State, 1955)
Cynthia Steinke (Iowa State)
Ruth A Seeler, M.D (Vermont, 1956)
Chicago Alumnae Chapter
Gifts Recorded During March 2023
Joyce S Baxter (Maryland, 1954)
Cleveland East Alumnae
Gretchen Bach Austin (San Jose State, 1955)
Marin County Alumnae Chapter
Phyllis A Cimaglio (Miami, 1964)
Cleveland East Alumnae
André Gariépy, Father of Lynn Gariépy (McGill)
Suzanne Lee (McGill)
Judith Ann Klein Engberg (Missouri – Columbia, 1959)
Lana Slack (Missouri-Columbia)
Dr. Liz Maiwurm Morrell (Iowa, 1982)
Julie Harrigan (Iowa)
Nancy Newman (University of the Pacific, 1970)
Janice Graves (University of the Pacific)
Kay St. John (California State-Long Beach, 1963)
Ruth-Ann W. Nydam (California State-Long Beach)
Betty Baldessari Sokol (San Diego State, 1949)
Bergen County Alumnae Chapter
Maria Cioffi (Ohio State)
Michelle Wexler (Georgia, 2004)
Noel Rogers (Georgia)
Gifts recorded during February 2023
Betty Baldessari Sokol (San Diego State, 1949)
Denise Vollert-Parrotto (California State-Fullerton)
Linda Biegelman Kvistad (Miami, 1979)
Shellie Hodges (Oregon)
Annabel Jones (Oklahoma)
Verona Dilbeck Lynam (Oklahoma City, 1952)
Corinne Martinez (California - Berkeley)
Judith Ann Klein Engberg (Missouri – Columbia, 1959)
Nancy Litzinger (Missouri-Columbia)
Jeanine Rioux Filiatrault (Arizona, 1954)
Sandra Nauman (Arizona)
Ruth A Seeler, M.D (Vermont, 1956)
Corinne Martinez (California - Berkeley)
Doreen Warfield (Colorado, 1943)
Patricia Echols
John Vanier
Anne Layton (McGill)

GIFTS RECORDED DURING JANUARY 2023
Pastor Laurel Alexander (California State-Fullerton, 1977)
Maria Adams (California Polytechnic State)
Barbara Cline Day (Northwestern, 1952)
Joyce Lemon Dunn (Northwestern)
Amy Nunes (Northwestern, 1980)
Marcus Nunes
National Philanthropic Trust
Ruth A Seeler, M.D (Vermont, 1956)
Phyllis Choat (Nebraska – Lincoln)
Michelle Wexler (Georgia, 2004)
Susie Bott (Georgia)
Melodie Elam (Georgia)
Jennifer Stanley (Georgia)
Suzanne Wardell (Georgia)
Marsha White (Georgia)
GIFTS RECORDED DURING DECEMBER 2022
Pastor Laurel Alexander (California State-Fullerton, 1977)
Dawn Schriver McSavaney (Puget Sound)
Barbara Byorum-Smith (North Dakota State, 1969)
Joey Stiver (North Dakota State)
Verona Dilbeck Lynam (Oklahoma City, 1952)
Virginia Hammond (Colorado- Boulder)
Holly Hunt
Kathleen Rall (San Diego State)
Clara and Alfred Jacob, parents of Jeanne Jacob (Iowa)
Jeanne Jacob (Iowa)
Janet R. Nentwig Schoedinger (Missouri-Columbia, 1959)
Lana Yeokum Slack (Missouri-Columbia)
Sandra Reilly (Kansas State, 1961)
JoAnn Goetz Heasty (Kansas State)
Susan Palowsky West
Cheryl Gatchel Petty (Wittenberg)
Pam Pearson (Oklahoma State, 1968)
Barbara Beeman (Oklahoma State)
Ruth A Seeler, M.D (Vermont, 1956)
Virginia Hammond (Colorado- Boulder)
Barbara M Wessel (Syracuse)
Dorothy Somers Hoehn (Northwestern, 1928)
Catheryn Hoehn
Donna Sprague
Cheryl Gatchel Petty (Wittenberg)
Gifts recorded during november 2022
Jane Ball (British Columbia, 1947)
Corvallis Alumnae Chapter
Marta Brown (Boston, 1947)
Julia Hart-Lawson (Oregon)
Elizabeth DePerez
Julia Hart-Lawson (Oregon)
Erica Goeckel, daughter of Dianne C. Weidner (Indiana)
Dianne C. Weidner (Indiana)
Vivian Hadley (Colorado State, 1945)
Calir Hadley
Meg Henningson (Oregon, 1874)
Julia Hart-Lawson (Oregon)
Frances Tysor (Texas- Austin, 1946)
Linda D. Nowlin (Oklahoma)
Barbara Hart Wilson (California-Berkeley, 1942)
Julia Hart-Lawson (Oregon)
Clara and Alfred Jacob, parents of Jeanne Jacob (Iowa)
Jeanne Jacob (Iowa)
Verona Dilbeck Lynam (Oklahoma City, 1952)
Sally Lewis (Bradley)
Magnes Welsh (Memphis)
Melinda Milstead Nickless (Texas-Austin, 1971)
Nancy Enright (Texas-Austin)
Kay Robinson (Idaho, 1956)
Corvallis Alumnae Chapter
Ruth A Seeler, M.D (Vermont, 1956)
Colette Hays (Bradley)
Gina Trimarco (Illinois at Urbana-Champaign)
Magnes Welsh (Memphis)
Sally Lewis (Bradley)
Peter Smiley, father of Megan Smiley Wick (Washington State) 
Sally Lewis (Bradley)
Gifts recorded during october 2022
Marian Doty Bickford (Penn State, 1944)
Iris Darling (Vermont)
Vermont Green Mountain Alumnae Chapter
Blanche Layman Conder (Western Ontario, 1959)
Sally Mooney (Toronto)
Verona Dilbeck Lynam (Oklahoma City, 1952)
Annabel Jones (Oklahoma)
Jessica Jecmen (Oklahoma City)
Nicole Davis Matney (Washington State University, 1993)
Ashley Park (Washington State)
Janet R. Nentwig Schoedinger (Missouri-Columbia, 1959)

Nancy Litzinger (Missouri-Columbia)
Sandra Russ (Northwestern, 1966)

Joyce Etling (Ohio State)
Peter Smiley, father of Megan Smiley Wick (Washington State)
Ann Campbell (Northwestern)
Frances Griffin (Texas-Austin)

Annabel Jones (Oklahoma)

Mary Knaup (California State)
Ruth A Seeler, M.D (Vermont, 1956)
Ann Campbell (Northwestern)
Barbie Chadwick (Vanderbilt)
Arlene Faulk (Iowa)
Teri Fulton (Northwestern)
Frances Griffin (Texas-Austin)
Fraya Hirschberg (Michigan)
Shellie Hodges (Oregon)
Annabel Jones (Oklahoma)
Megan Krueger (Indiana)
Anne Layton (McGill)
Nancy Litzinger (Missouri-Columbia)
Jennifer Moeller (Missouri-Columbia)
Cheryl Speer (California State-Fullerton)
Joey Stiver (North Dakota State)
Karen Urette (Oklahoma)
Sally Wallace (Oklahoma)
Liz Ware (Michigan)
GIFTS RECORDED DURING September 2022
Marian Doty Bickford (Penn State, 1944)
Iris Darling (Vermont)
Vermont Green Mountain Alumnae Chapter
Blanche Layman Conder (Western Ontario, 1959)
Sally Mooney (Toronto)
Lois Jensen Fronk (Wyoming, 1961)
Carol Hendon (Wyoming)
Verona Dilbeck Lynam (Oklahoma City, 1952)
Judy Graham (Oklahoma)
Sally Lewis (Bradley)
Carlotta Norman (Southern Methodist, 1958)
Jennifer Ogden (Texas Tech)
Merle Morris Ongaro (San Jose State, 1955)
Marin County Gamma Phi Beta Alumnae group
Pam Pearson (Oklahoma State, 1968)
Barbara Beeman (Oklahoma State)
Sandra Russell (Northwestern, 1966)
Maria Cioffi (Ohio State)
Paula Martin Rutherford (Oklahoma, 1961)
Jennifer Cibor (Indiana)
Debbie Ann Donna Satsky (Texas State - San Marcos, 1983)
Christine Barr (Texas State University - San Marcos)
Janet Green Wesselman (Iowa State, 1949)
Jeff Wesselman
Caroline Reigle Williams (Oklahoma, 1955)
Evan Williams