Confident Women of Character Series
The Confident Women of Character Series is a new initiative that benefits international alumnae dues payers and Life Loyal members by providing monthly webinars around a skill or subject area. These virtual seminars allow members to share their passions with fellow sisters, using their expertise to inspire conversation and connection with women at all stages of life.
Whether you are just graduating or are looking to retire from a career, there's something in our series for you. Pay your international alumnae dues or join Life Loyal today so that you can participate in the upcoming webinars!
For questions about the Confident Women of Character Series, email Alumnae Engagement Manager Natalie Pearson. For questions about international alumnae dues and Life Loyal, email Marketing Coordinator Tori Peckarsky.
Upcoming Webinars
Coming Soon!
January 16, 2020, at 6 p.m. MT
January: It's Not About Getting a Job, It's About Getting a Life
Sara Orlino (Denver)
Getting a new job can be a full-time gig, so use your time wisely. In this webinar we will review steps to prepare your résumé, identify ways to intentionally network and connect and helpful resources to find your next job.
Sara Orlino (Denver) joined Gamma Phi Beta at Theta Chapter at the University of Denver, and currently works as the director of Development for Gamma Phi Beta Foundation. During the last 13 years, Sara built her career in sales, customer service and recruiting. Sara is passionate about leadership and learning. When working in Human Resources, Sara hired and onboarded over 100 employees. Sara is a long-term mentor and enjoys baking and watching reality tv. She is married to Paul and lives in Centennial, Colorado, with their two children Bennett (4) and Adeline (2).
February 20, 2020, at 6 p.m. MT
Building Confidence through Professional Pivots
Panel Discussion
We often talk about career transitions, but what about professional pivots? These come as a result of personal changes impacting our professional lives or professional changes that make us grow personally. Hear from three Gamma Phi Betas on pivots they navigated and the confidence that followed.
Rachael Eddy (Florida State) Work and Motherhood: Pivots in Identity, Networks and Priorities

Fran Mayfield Stevenson (Kansas State): Pivot or Jump? Making an Industry Switch

Judy Graham (Oklahoma): Pivoting with Purpose: Transitioning to Retirement
Rachael Eddy (Florida State) graduated from Florida State University with bachelor's degree in social work and criminology and a master's degree in social work. She joined Teach For America and taught secondary special education in Denver. After working for about five years in schools, Rachael transitioned back to social work, working as a caseworker in child welfare for the Denver department of Human Services. She has continued her work in child welfare but instead of working for an agency, she contracts independently as a clinical consultant with a guardian ad litem.
Fran Mayfield Stevenson (Kansas State) is a highly experienced client and employee relationship manager with more than 20 years of success and achievement in leading and advising a wide range of organizations. With a marketing degree from Kansas State University and a master's degree in higher education administration, Fran's career crossed higher education, independent and international work, stay-at-home motherhood and volunteer roles, including her current role as vice presidents North America customer success for Accruent, a global software company. She is active in her church community and school district and has served on numerous boards. Fran is married to Brad, and together they have a blended family of four adult children and one senior in high school.
Dr. Judy E. Graham (Oklahoma) joined Gamma Phi Beta at Psi Chapter at the University of Oklahoma. She spent 25 years in clinical and administrative positions in the behavioral health field. Dr. Graham later joined Eli Lilly as the account manager for Texas where she presented scientific research to key decision makers as well as negotiated contracts and coordinated account management activities across the medical, sales and public affairs divisions. Dr. Graham was certified as an examiner for Malcolm Baldrige Award and was selected from an international group of applicants to participate in a year-long training program led personally by Dr. Peter Drucker. A True and Constant sister, Dr. Graham has served Gamma Phi Beta in numerous international and local positions.
March 19, 2020, at 6 p.m. MT
How to Take A Career Break Without Breaking Your Career
Tara Quinn (Berkeley), PCC, CPCC, CDC
Do you long to escape your cubicle, quit your job and travel the world on your own terms? If you've ever fantasized about your own adventurous escape from the corporate grind (but wondered how to take a break from work without damaging your career trajectory) this unique webinar is for you! Walk away with inspiration, best practices and action items for making your travel dreams and career aspirations come true.
Tara Quinn (Berkeley) is a life sabbatical and long-term travel coach, and founder of Three Month Visa Coaching and Consulting. She has been in practice since 2006, and has worked with hundreds of clients, empowering them to transform their lives and careers through meaningful international travel and volunteer experiences. She is widely considered a national thought leader on the topics of work/life balance, sabbaticals, career breaks and pivots and transformational travel. And, has been featured as a subject-matter expert in numerous online and print media outlets including The Wall Street Journal, BBC Travel, New York Magazine, USA Today, The Huffington Post, Seventeen, Travel & Leisure, The Christian Science Monitor and MSNBC.com. Learn more at ThreeMonthVisa.com.
April 16, 2020, at 6 p.m. MT
Setting Smart Financial Goals Might Just Make You a Millionaire
Crissy Buchanan Carlisle (Alabama-Tuscaloosa)
You don't have to make six figures annually to become a millionaire. You just need to set smart financial goals and be disciplined with them. In this webinar, we explore how to create and manage a personal financial plan using priority-based, smart spending.
Since 2015, Crissy Buchanan Carlisle (Alabama-Tuscaloosa) has served as the chief investor relations officer at Birmingham-based Encompass Health, a national leader in integrated healthcare services. Prior to joining Encompass Health, she served as a director within the Corporate Recovery division of PricewaterhouseCoopers LLP and as a manager within their audit practice. Her career achievements have been recognized by being named the Best Investor Relations Professional in MidCap Healthcare Facilities and Managed Care by Institutional Investors. Her philanthropic involvement includes her work on the Accounting Advisory Boards of Samford University and the University of Alabama at Birmingham (UAB), United Way of Central Alabama and her role as a mentor for female business students at the University of Alabama and UAB. Crissy lives in Birmingham, Alabama, with her husband Mark and son Nicholas.
May 21, 2020, at 6 p.m. MT
Next Gen Real Estate: How to Survive the 2020 Real Estate Market
Sonya Striggles (Bridgewater State)
Interested in dipping a toe into the real estate waters this year as a buyer, seller or investor? In this webinar, we'll dive in with strategies to ensure your real estate experience is rewarding and stress-free, no matter where live. From staging tips and loan programs to negotiation tactics that will make your offer shine, there's something for everyone in this real estate survival seminar.
As an initiated member of the Epsilon Eta Chapter at Bridgewater State University, Sonya graduated cum laude with a B.A. in English with a writing concentration in 2010. Following graduation and after a few years in the field, Sonya obtained her real estate license and joined Keller Williams in June of 2011, starting a full-time career in real estate. Over the last eight years, she has built a top team south of Boston, Massachusetts, the SLS Realty Group at Keller Williams, assisting buyers, sellers, and investors in their pursuit of their own American dream. She also sits on the Agent Leadership Council, which oversees an office of close to 200 agents. Sonya resides in Bridgewater, MA with her fur children, is a huge Boston sports fan and has a true passion for all things Bravo!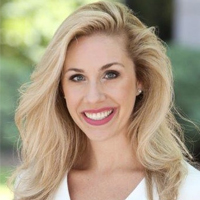 June 18, 2020, at 6 p.m. MT
Financial Wellness at Any Age
Sommer Morris (Alabama-Tuscaloosa)
Think of this as the financial version of GLAMOUR magazine's iconic age issue. Learn tips to help you become more financially savvy and channel your inner, more confident, Wall Street Goddess. We will highlight key topics to address for your 20s, 30s, 40s, 50, 60s, 70s and beyond!
Sommer Morris (Alabama-Tuscaloosa) is a financial advisor who received her bachelor's degree in accounting from the University of Alabama, as well as a Master of Business Administration degree and Certified Public Accounting designation. Sommer traveled the country advising internal clients about operational and financial management but felt a void to impact others. She was then offered an opportunity with Morgan Stanley and quickly realized it was not a career, but a calling. Financial planning for Sommer is the perfect balance of bringing right-brain vision to the more practical areas of knowledge like numbers and goals. Her targeted clientele is comprised of young professionals just starting out, female executives and business owners looking for edge and thoughtful planning and those going through the transition of divorce or the loss of a spouse. In each of her clients she is always reminded of her own story and can see a little of herself and the strong women that helped shape who she is today. Sommer is married to Bert and they have one son, Ford.
July 30, 2020, at 6 p.m. MT
Whiteness 101
Gamma Phi Beta's Education Manager Jennifer Campfield
For many, conversations around race and racism can feel daunting and overwhelming. In Whiteness 101, we will explore what it means to be white, how whiteness shows up on a small and large scale and give you practical tools for continued personal growth. No prior experience or academic background needed! Simply bring yourself and a desire to learn as we have a night of authentic conversation.
Jenny is passionate about education. Throughout her career, Jenny worked in K-12 education, multiple functional areas across higher education and student affairs and in online learning as an English as a second language (ESL) instructor. She currently works as an education manager at Gamma Phi Beta International Headquarters. Jenny is also passionate about diversity and inclusion. Her passion for this work began during her graduate studies in the student affairs in higher education master's program at Colorado State University. Her courses challenged her to develop systems thinking while also applying what she was learning in the classroom to her own life. When she is not at work, you can find Jenny spending time with friends and family, volunteering with her sorority, Phi Sigma Sigma, playing her violin or hiking and camping in the Rocky Mountains near her home in Denver, Colorado.
August 20, 2020, at 6 p.m. MT
How to Promote Diversity and Inclusion at Work, With or Without the Job Title
Dori Farah (Oklahoma City)
Creating an inclusive workplace is everyone's job. Whether you are interested in a formal role in diversity and inclusion or just wondering how you can contribute to a more inclusive work environment, this discussion on how to create meaningful change in your organization is for you.
During the last decade, Dori Farah (Oklahoma City) has led inclusion and diversity efforts at Syracuse University, the National Center for Women & Information Technology and Apple, Inc. Working alongside social scientists, university deans and faculty, nonprofit leaders and business executives around the world, her career has focused on driving systemic change through program design, policy shifts and leadership development. And as someone who is deeply curious about people dynamics, subtle and structural barriers to equity and how the world shifts when more diverse voices are heard and valued, she's found work in inclusion to be a fascinating and powerful way to make a difference. Dori lives in San Francisco, California, with her husband Andrew and their dog Indiana Jones, and is eagerly awaiting the arrival of a baby girl this fall.
September 17, 2020, at 6 p.m. MT
Empower, Love, and Teach: Conversations with Children About Racism
Lynnette Phillips (North Dakota) and Maribeth Flakes (Bridgewater State)
Racism is a matter of the heart. How do we as adults, whether parental or part of the parenting community, have heartfelt conversations that empower others, demonstrate love and teach the next generations? This discussion is meant for anyone interacting with children to understand how to have meaningful, heartfelt and age-appropriate conversations about racism and the need for anti-racism.
Lynnette Phillips (North Dakota) is the proud wife to Wallace Phillips and mom to Jordan and Maya, her greatest joys in her life. She is a recent graduate of Regent University where she obtained a master's degree in organizational leadership and executive coaching. Lynnette is the owner of Empower Your Possibilities, LLC focusing on values-based coaching, consulting and speaking where individuals and organizations gain clarity of purpose and values coupled with the power of self-belief. She is also co-founder of the Fulfilled Mom Movement, a group of values-based coaches curating a space for moms to design a life they love. One of her fellow co-founders is a Gamma Phi Beta sister from her collegiate chapter Alpha Beta (North Dakota), where Lynnette was initiated in 2000. Just before embarking on full-time entrepreneurship, she enjoyed a career (for 17 plus years) as a hospitality professional at Walt Disney World Resort.
Maribeth Flakes (Bridgewater State) is a proud mom to Grace and Olivia. She currently serves as the director of Student Engagement at Babson College. In her role, she plans and executes undergraduate student orientation, advises the Student Government Association and supervises a team of student affairs professionals. In her free time, Maribeth served as co-chair to Gamma Phi Beta's Belonging and Inclusion Task Force , sits on the Board of Directors for the Northeast Greek Leadership Association (NGLA) and is a member of the Parent-Teacher Organization for her kindergartner's elementary school. As a mom, professional and volunteer, Maribeth is passionate about anti-racism and the education of herself and others.

October 22, 2020, at 6 p.m. MT
Expanding on Microagressions
Harper Matthews (Pepperdine) and Selina Ruiz (Pepperdine)
You may have heard the term microagressions before, but do you know what it means or if you are using them? This session will explore microaggressions – what they are and how to take ownership of challenging microaggressions when we see them in our chapters and in our lives.

Harper Matthews (Pepperdine) is a Southern California native, world traveler and avid foodie. As a two-time graduate of Pepperdine University, earning a bachelor's degree in psychology with a minor in ethnic studies and a master's degree in education, Harper has a love for student affairs and a deep passion for student identity and leadership development. After working in college admission and dedicating her graduate research to better understanding student retention and success, especially amongst students of color, Harper felt called to a career in student affairs. She currently is the program manager for Pepperdine University's Washington D.C. study away program where she oversees student affairs, program management and building operations. Inspired by Gamma Phi Beta's former tagline (Connect. Impact. Shine.), Harper spends much of her free time trying to make a positive impact in her community and serving in roles aiming to build strong girls. A former chapter advisor and recruitment specialist for Gamma Phi Beta, Harper now serves as a lead facilitator and a member of the 2020-22 International Nominating Committee. Additionally, she serves as the vice president of the Young Professionals Board of Girls on the Run Montgomery County and uses her background in recruitment and retention in her role as the membership service chair for the Greater Washington Urban League's Young Professionals Axillary group, Thursday Network.
Selina Ruiz (Pepperdine) is a Texas-born California girl who left her heart in New York City. After earning a bachelor's degree in psychology at Pepperdine University, Selina spent a year traveling as a collegiate leadership consultant for Gamma Phi Beta, visiting more than 40 chapters and recruiting the charter class at the University of Texas at San Antonio. Selina then headed to New York to pursue master's degrees in education (Bank Street College) and social work (Columbia University). Selina worked in early childhood education in underserved communities for nearly a decade, with years as a literacy specialist, providing intensive reading intervention for students reading below grade level and coaching classroom teachers on literacy instruction best practices. Selina has volunteered for Gamma Phi Beta in a variety of roles including chapter advisor and alumnae chapter president. She is currently a recruitment supervisor for new chapters and serves on the Lead Facilitation Team. Selina loves being outside – camping, backpacking and running long distances. She has a goal of completing a half-marathon in every state.

Future Webinar Topics
Do you have a topic you would like to see presented or would you like to present? Email our Alumnae Engagement Manager Natalie Pearson. All webinars must align with Gamma Phi Beta's member competencies and strategic priorities.