Facility Projects
Facilities Spotlight: Gamma Omicron Chapter (Kentucky)
Gamma Omicron Chapter (Kentucky) opened their doors to their new facility in August 2020. This free-standing facility holds 42 members and features a custom illuminated crest above the pink front door. The women in the chapter report they love the new facility and are excited to have a place for sisters to gather!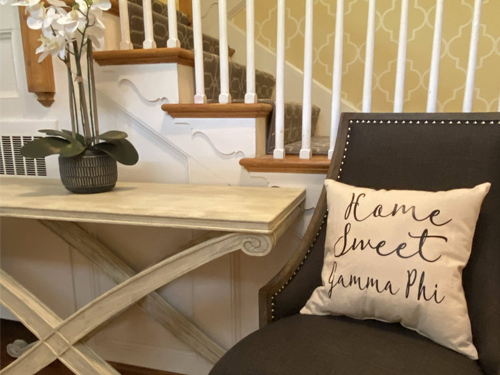 Alpha Delta Chapter (Missouri-Columbia) Facility
This beautiful facility features a brand-new north wing, which created a larger dining room, kitchen and chapter room. The renovation also updated bedrooms and added additional rooms.

Facility Type: Free-standing facility
Sleeps: 82
Completed November 2019
Delta Pi Chapter (Illinois State) Facility
Using an updated color palate, walls were painted a soft grey with white trim and blush accents. The facility also added new furniture, and hints of Gamma Phi Beta's sisterhood can be found throughout!
Facility Type: Free-standing facility

Sleeps: 39

Completed July 2019
Eta Xi Chapter (Florida) Facility
This head-turning property is approximately 24,000 square feet and equipped with 34 bedrooms, a lush outdoor courtyard and beautiful décor. This facility brings in the smallest of details, down to the Florida Gator blue front door to welcome members home.

Facility Type: Free-standing facility
Sleeps: 71
Completed fall 2018
Gamma Phi Beta Facilities Management Company (FMC)
Managing a facility can be overwhelming, whether a free-standing facility or specified space such as a suite, dorm floor or meeting room. Offering a variety of services, Gamma Phi Beta's Facilities Management Company (FMC) can help. From member billing and accounts payable, collections and payroll to safety and décor, the FMC is ready to provide you hands-on assistance, training and advice. To learn more about how the FMC can support your property, contact us using the button below.